Stakeholder engagement /
Renaming /
Visual identity & logo design /
Messaging & Tone of Voice /
Drupal Website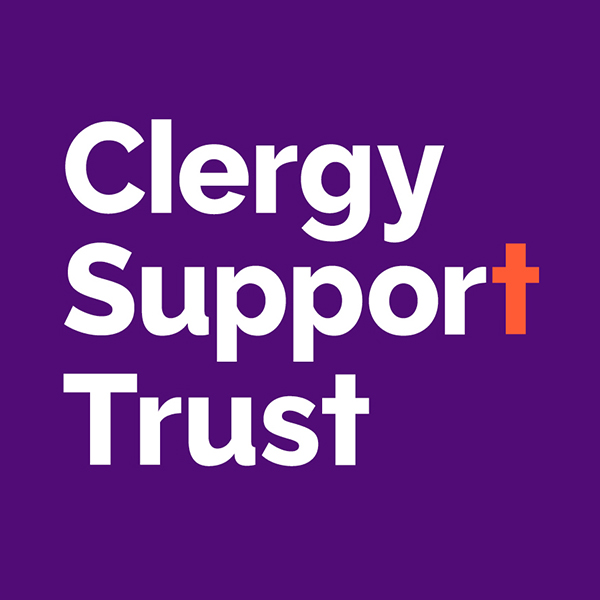 Charity
Clergy Support Trust
Stakeholder engagement /
Renaming /
Visual identity & logo design /
Messaging & Tone of Voice /
Drupal Website
IE Brand carried out in-depth stakeholder research, which resulted in 'Sons & Friends of the Clergy' being renamed 'Clergy Support Trust'. We then created new brand messaging, visual identity and a new logo for the Christian charity, supported by a new Drupal website.
For over 350 years, Clergy Support Trust has been determined to realise its vision of a flourishing clergy serving God's people. They offer grants and wellbeing support to members of the Anglican clergy – including ordinands and retired clergy – and their families, in times of need. Their support ranges from grants for those in financial need, and wellbeing support for those struggling with the challenges of life in the clergy.
Step 1 - Listen
Exploring audience perceptions
"Sons & Friends of the Clergy" has been doing great work for hundreds of years.
Following the appointment of a new Chief Executive, a full strategic review of the charity recommended a brand research exercise, to better understand perceptions of the existing brand among the charity's audiences:
Beneficiaries: Ordinands, pre-retired, retired, their dependants, divorced / separated spouses, widows etc.
The Church: Dioceses, Bishops, Institutions, Director of Ordinands, Theology Colleges etc.
Supporters & partner organisations
The wider world including the media
The charity had identified that their name was potentially confusing to target audiences, and asked IE Brand to test this hypothesis and explore alternatives. IE conducted telephone interviews with a representative sample of external stakeholders.
We then created a quantitative esurvey to validate these results with over 1,200 participants, drawn from the clergy, ordinands, and their families from across the UK. The survey sample included previous beneficiaries of grants from the charity, through to people previously unfamiliar with the organisation.
The research showed that a number of people had unhelpful or misleading perceptions of the charity, ranging from thinking that it was 'only for men', to believing that it helped clergy children to attend independent boys' schools.
In the below video, you can watch a presentation to members of the ACO on how Sons and Friends of the Clergy became Clergy Support Trust, with Nick Gazard (Marketing & Communications Manager) at the charity and David Crichton (Creative Director & Brand Consultant) at IE Brand.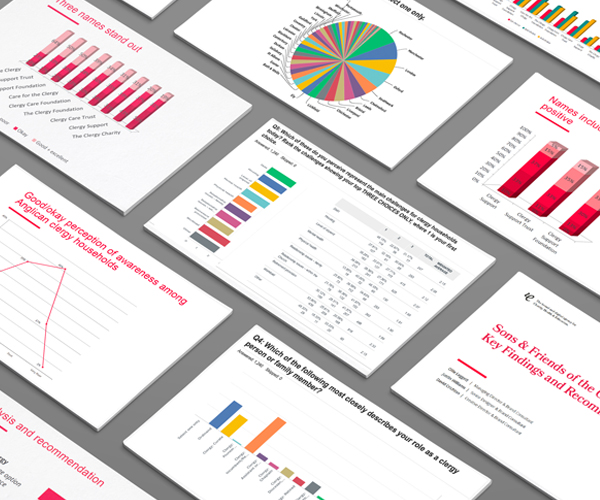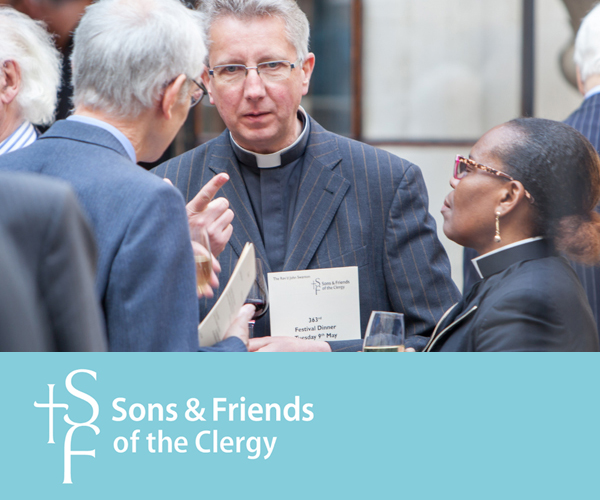 IE Brand came on board at a time of considerable change for our 364-year old charity, which supports Anglican clergy and their families. Our old brand was part of our history, but was no longer relevant or accessible to today's clergy. IE Brand helped with stakeholder engagement and in establishing the case for change through beneficiary research. We're delighted with our new name and visual identity, which will enable us to reach more clergy families in need.

Jeremy Moodey

Chief Executive
Step 2 - Advise
Renaming and brand messaging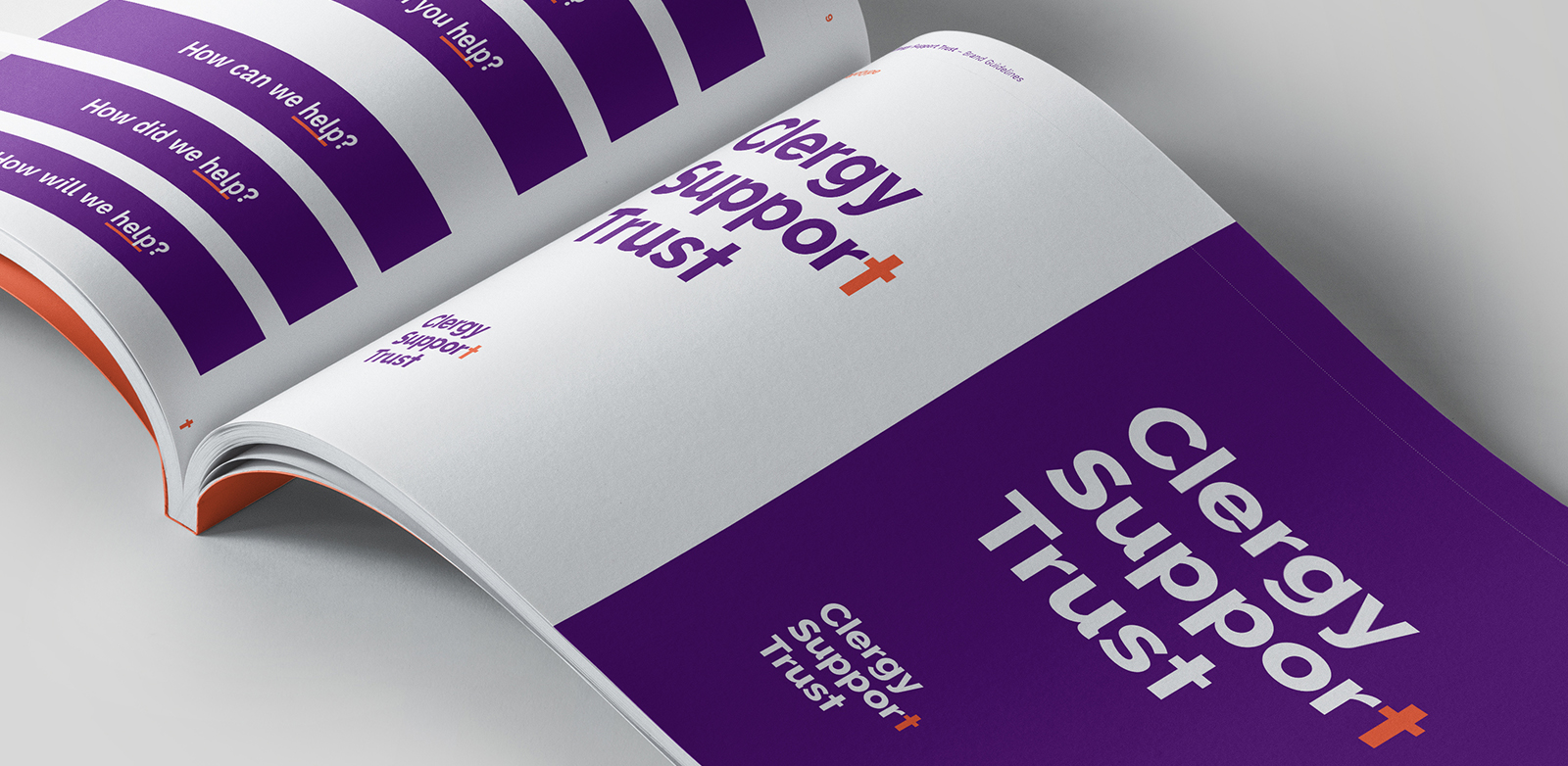 IE Brand's research showed that audiences were largely supportive of a name change to shake off these misconceptions, and we recommended the name Clergy Support Trust from a shortlist of two very strong contenders.
IE made a series of further recommendations to the charity. These included an increased focus on non-financial support to address challenges such as heavy workloads and mental health problems – in addition to providing a lifeline through grant-giving.
Clergy Support Trust needed to become more visible to members of the clergy, and become thought leaders on the subject of clergy wellbeing. For their beneficiaries, they needed to make it easier for people to ask for help, and demonstrate that the charity is inclusive, confidential and impartial.
Updated brand messaging reflects these aims, while a modern new visual identity was needed to help the charity move forwards.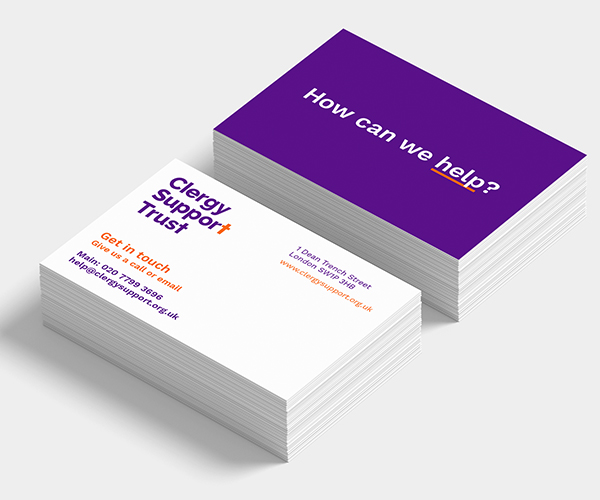 Step 3 - Deliver
A confident, inclusive visual identity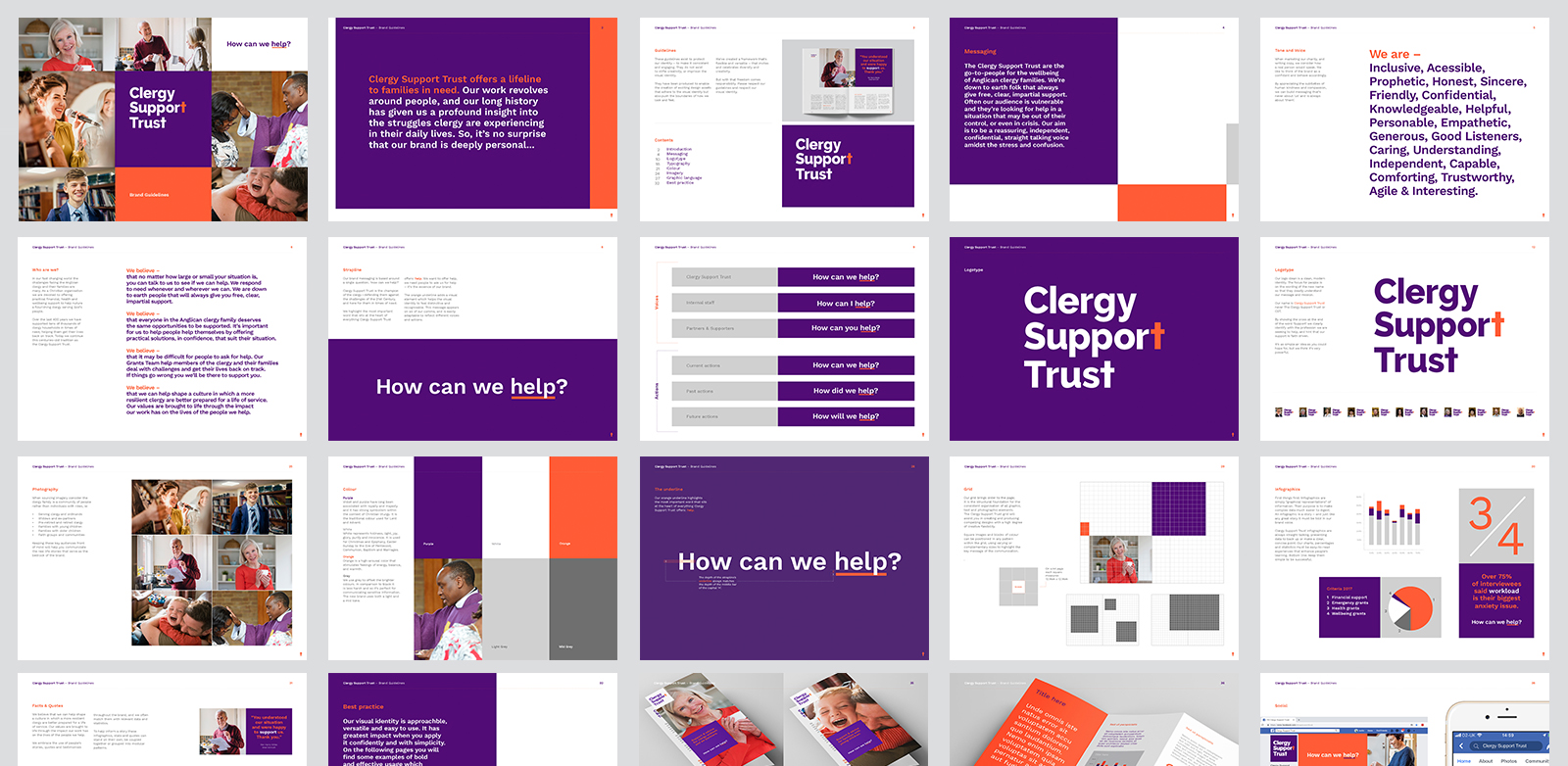 Strapline and brand messaging
Clergy Support Trust's new brand messaging is based around a single question, 'How can we help?' It's a simple reminder of why they exist and appears on all of their comms.
The brand personality is helpful, empathetic and passionate. The messaging has a renewed focus on storytelling, putting people and families at the heart of the brand. The people at Clergy Support Trust offer a listening ear with someone who cares about clergy wellbeing, and who will never judge, because asking for help is never a sign of weakness.
Visual identity and logo
IE Brand created a modern logotype that emphasises the three words at the centre of the charity's work.
By highlighting the cross at the end of the word 'Support', the logotype includes a nod towards the faith-driven nature of their support. The brand's new colour palette combines the majesty of royal purple – symbolic within the context of Christian liturgy – with the purity and light of pure white, and the energy and warmth of bright orange.
To ensure that the brand is more personable and relatable, we use photography that revolves around lifestyle imagery showing real families, to accompany stories and impact stats.
The project has been shortlisted for 'Best Visual Identity from a Charity, NGO, or Not-For-Profit' and 'Best Naming Strategy' at the Transform Awards Europe 2021.
An outstretched hand to reach more beneficiaries
Put together, these elements create a confident and compelling brand, and reflect a new sense of organisational confidence and ambition for the charity. With its new messaging, visual identity and renewed focus, Clergy Support Trust will become more visible to the people that need it most – offering an outstretched hand and a beacon of hope for members of the clergy and clergy families in need.
Clergy Support Trust's annual report showed the enormous impact of the rebrand and new website, year on year (2018 vs. 2019):
66% more beneficiaries helped (906 up from 547 in 2018)
21% more grant money awarded (£3,130,000 in 2019, up from £2,580,000 in 2018)
36% increase in grants disbursed (1,608 in 2019 vs. 1,185 in 2018)
85% quicker grant processing time, from 45.7 days to just 6.9 days.
99% of 575 grant recipients surveyed, when asked how the support had made a difference, said it had made their life easier, and 98% said it helped them worry less about money.
Hear the charity's Chief Executive, Jeremy Moodey, talking about the new brand when it launched.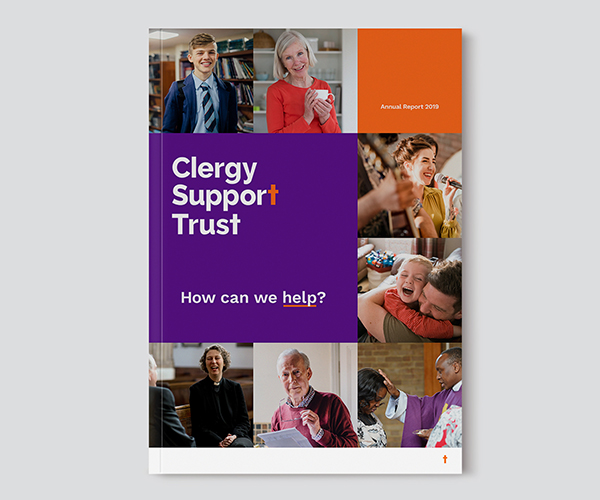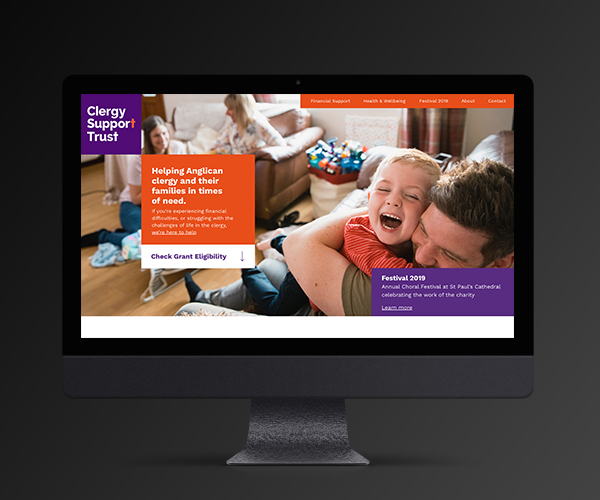 Step 4 - Support
Rolling out the brand
To help the charity to roll out its new brand, IE created a comprehensive brand guidelines document, messaging matrix and a set of templates.
Last but not least, Clergy Support Trust asked IE to design and develop a new website in time for the brand's unveiling at the Christian Resources Exhibition in Manchester (CRE North).
Working against the clock under short timescales, the IE Digital team created the new site in Drupal 8, to show off the new visual identity and messaging beautifully. It features a new 'Eligibility Checker', functionality that stemmed directly from a need highlighted by IE's initial research findings, which allows beneficiaries to discreetly explore whether they might be eligible for a grant.
The website was named Runner-up for 'Best New / Redesigned Website' at the Premier Digital Awards 2019.
See it for yourself at clergysupport.org.uk
We were impressed with the IE team, and have also now entrusted them with redesigning our website.

Jeremy Moodey
Chief Executive

84% increase in grant applications, leading to 66% increase in beneficiaries helped (2019 vs 2018)

Eligibility Checker used over 3,000 times in the first four months

Transform Awards: shortlisted for 'Best Visual Identity – Charity' and 'Best Naming Strategy'