Our story
IE began life in 1994 as a Brand Consultancy, founded by our MD Ollie Leggett.
As a former teacher, design lecturer, and charity trustee, Ollie had a passion for helping Charity, Health and Education clients to connect with their audiences and gain access to the industry's best creatives – something that, back then, was all-too-commonly only possible for 'big business'.
In 2002, IE bought a digital agency, after recognising that digital platforms were becoming one of the most important expressions of brand – and we were fed up of seeing our work butchered by techies. So the two companies merged and became the agency we are today: A team of around 20 consultants, researchers, writers, brand designers, and developers based in the historic Jewellery Quarter in Birmingham. And we still remain true to our original vision – helping values driven clients to harness the power of their brands.
Whether it's helping charities to tell their stories or recruit donors, helping universities to attract and engage students, or helping healthcare organisations to inform and educate patients – we're the voice of the audience, and it's our job to turn them into your loyal brand advocates.
That's why we're the brand agency for Charity, Health & Education.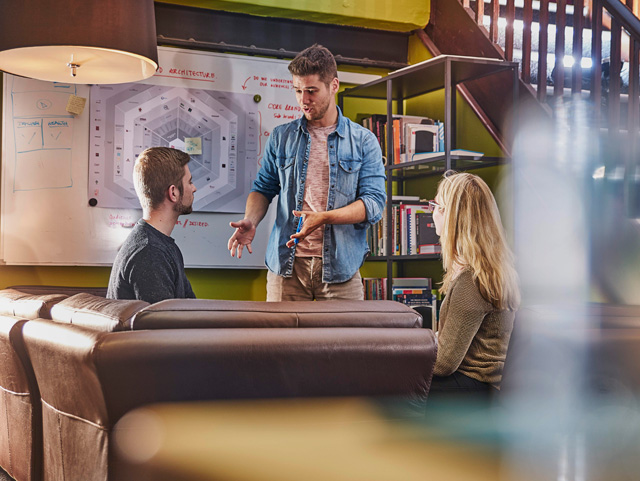 Our team
Call us big headed, but we're pretty confident we've got the best people in the industry.
Because IE Brand is only as good as its people. Our studio is full of some of the industry's best Brand Consultants, Researchers, Creatives, Designers, Filmmakers, Typographers, Copywriters and Artworkers – all under one roof.
Our awards
ISO 9001 : 2015 Certified

As a business we are ISO 9001 Accredited and undergo an annual external audit. This is one of a number of internal processes and procedures we have in place to ensure our clients receive a first-class experience with IE.

IE has been ISO 9001 accredited since 2008 for the design and provision of web, interactive, design and brand solutions.

Last audited April 2019. Certificate number GB 14129916.

Winners of three awards at the Transform Awards Europe, 2017.

GOLD – Brand Architecture – Cranfield University
GOLD – Visual Identity for Education – University of Reading Careers
Highly Commended – Best use of a Visual Property – University of Reading Careers

Our judges praised the strong visuals, creative approach and impressive results coupled with a harmony between graphical and textual elements.

Transform Magazine


Close

CIWM Sustainability and Resource Awards 2016

SHORTLISTED – Most Effective Communications Campaign for WRAP Love Your Clothes

Campaign brand, messaging and visual identity by IE Brand. Love Your Clothes website, including video content, by IE Digital.

The Sustainability and Resource Awards are held annually by the CIWM (Chartered Institution of Wastes Management). The prestigious awards are presented for outstanding achievement in the sustainability, resource and waste industry and are judged by the most respected experts in the sector, representing the highest level of achievement.

Gold & Silver winners at the Transform Awards Europe 2019

GOLD: Best Visual Identity from the Healthcare and Pharmaceuticals Sector – Sexwise (client: sexual health charity FPA)

SILVER: Best Visual Identity from the Farming and Agriculture Sector – AgriFood Training Partnership (AFTP) (client: University of Nottingham)

2019 has been a record year for submissions. The judging was extremely thorough so this year has been very competitive.

Transform magazine


Close

Education Resources Awards

2015 WINNER – Best Secondary Resource for PFEG

2014 WINNER – Innovation Award for PFEG "Get Money Smart" Campaign

The UK's leading financial education charity, PFEG won Best Secondary Resource for the My Money Week resource packs IE designed for the national campaign. PFEG (now Young Money, part of Young Enterprise) ran the a national activity week, to educate both primary and secondary students in financial matters. IE's creatives designed the pack in a newspaper style, aiming to provide creative, engaging and flexible teaching materials to support PFEG's My Money Week initiative. The packs contained articles, problems, puzzles and a sports page.

PFEG is now Young Money, part of Young Enterprise.

The Education Resources Awards (ERA) highlight and reward the quality and diversity of educational products, resources, services and people as well as the best educational establishments and the most dedicated members of the teaching profession. The ERA is recognised throughout the education sector as the Accolade of excellence.

Winners of three awards at the Transform Awards Europe, 2014.

GOLD – Best Visual Identity from the Education sector – University of Warwick Careers

SILVER – Best Visual Identity from the Education sector – University of Birmingham Careers Network

BRONZE – Best Use of a Visual Property – University of Birmingham Careers Network

Read about our work with University Careers Services

Third Sector Awards 2018

FINALIST – Best Brand Development for Sexwise, a campaign brand created for the FPA (Family Planning Association)

The Cream Awards recognised and rewarded the very best creative work from the Midlands, East, South West & Wales.

The Drum Cream Awards 2013

Shortlisted – Best Use of Illustration for PFEG (now Young Money, part of Young Enterprise)

Hand drawn with a beautifully crafted attention to detail, our illustrations for PFEG injected a sense of informality, youthfulness and character to everything the charity does. Mr Moola –one of the core character illustrations – became the face of PFEG's successful 'My Money Week' – a national activity week that provides essential financial education to children as young as 7.

The Drum Cream Awards 2011

Shortlisted – Best Use of Photography for Lifewords (formerly Scripture Gift Mission/SGM Lifewords)

Associate Supplier of AIM – Association of Independent Museums

IE is an Associate Supplier member of AIM, a thriving membership network for independent museums, galleries and heritage organisations across the UK.

In order to be admitted as an Associate Supplier, IE was first vetted by AIM, and recommended by two of our past charity clients for the quality of our work.

Corporate Member of ACO – the Association of Charitable Organisations

ACO is the national UK umbrella body for charities that give grants and welfare support to individuals in need. IE is proud to work with charity clients including the RAF Association, St Vincent de Paul's Society, Baron Davenport's Charity, and Clergy Support Trust – who we recently renamed and rebranded from Sons and Friends of the Clergy, and built their new website.

AHCM Communicating Healthcare Awards 2013

Shortlisted – Best Visual Brand for CSH Surrey

Shortlisted – Best Website for CSH Surrey

CharityComms Corporate Partner

IE's core belief is that the world's values-driven organisations deserve access to the best: the best thinkers, the best creatives, the best developers and the best service.

As an agency partner who understands the needs of charity marketing and communications professionals, IE Brand is proud to be a CharityComms Corporate partner.

The British Council's Youth on Board Award 2012

WINNER – Inspiring Project for PFEG "Our Money, Our Future" campaign (now Young Money, part of Young Enterprise)

Transform Awards Europe 2015

HIGHLY COMMENDED – Best Use of a Visual Property for Aston University Careers+Placements

HIGHLY COMMENDED – Best Use of Copy Style for Aston University Careers+Placements

Living Wage Foundation

IE Brand is proud to be accredited by the Living Wage Foundation, for voluntarily paying a higher rate of base pay.

The real Living Wage rates are independently calculated based on what people need to get by – higher than the UK governments minimum.

By paying the real Living Wage, employers are voluntarily taking a stand to ensure their employees can earn a wage which is enough to live on. That basic fairness is at the heart of what the Living Wage campaign is trying to achieve and why great businesses and organisations choose to go further than the government minimum.

Living Wage Foundation


Close

Winner: Leading Brand Agency for Charity & Education 2018 - UK

Awarded by CV Magazine at their 2018 Corporate Excellence Awards. The awards are hand picked by CV Magazine's dedicated research team to recognise the very best in business. Winners are chosen following careful research by CV's in house team, to reward organisations of all sizes who are succeeding in their endeavours: innovating, growing and improving.

IE is a proud Corporate Friend of #UKCharityWeek 2018.

#UKCharityWeek is a campaign designed to get the UK public talking about – and fundraising for – their favourite causes, just before Christmas when people are statistically at their most giving.
Location
IE Brand is proud to be a Birmingham agency, but that doesn't mean we only work in and around the UK's second city.
With so many UK charities choosing London as their headquarters, it's no surprise that over 50% of our clients are based in the capital, and IE consultants are in London at least 2-3 times per week on average.
And with UK universities being an area of specialism, we also work across the whole country, with clients as far north as the University of Aberdeen, to the University of Southampton. We've also worked with a number of clients in the Republic of Ireland, including University College Dublin.
Our central location offers the perfect opportunity for us to hop on the motorway or jump on the train regardless of your location. Current travel time by train to London is just over an hour – so we can often be with you faster than London agencies can travel across the city: offering you the convenience of a local agency, without their day rates.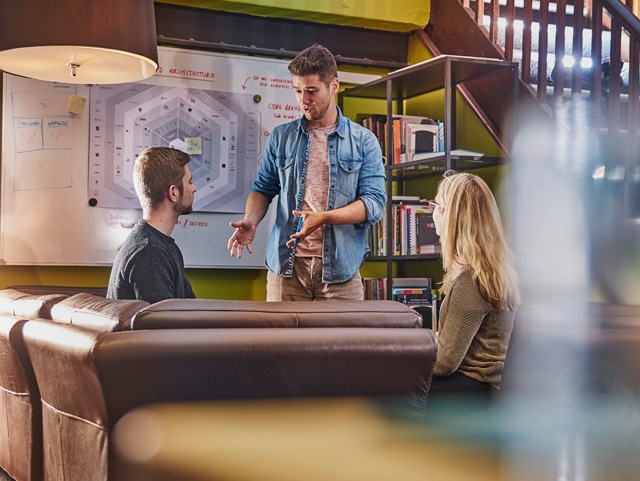 Careers
IE Brand's people are our most important asset. We believe in investing in the next generation of consultants, copywriters and designers. That's why we created the IE Academy – a recruitment programme for creatives.
Each and every member of the IE Brand team shares our ethos, and we encourage the team to participate in charity / community projects, which are supported by the agency.
Lots of agencies can make a brand. We're making a difference.
Our benefits:
33 days holiday (including bank holidays)
Flexible working hours
Time off in lieu
Paid overtime
Buy/sell holiday
Health cash plan
Time off for community projects
Pension scheme
4 week sabbatical (after 5 years service)
Personal training budget
Fun days (from kayaking to BBQs, ice-skating to tobogganing!)
Ping pong table
Unlimited book buying budget
IE Brand is proud to be accredited by the Living Wage Foundation, for voluntarily paying a higher rate of base pay.
If there are no vacancies listed below it means we're not hiring for any specific roles right now. But if you think we're missing out by not having you on the team, please send your CV to hello@iebrand.co.uk.
£22,000- £30,000 depending on experience
Click to read more about life at IE.
The Role
As a junior developer, you'll be working alongside our talented project team of experienced developers, who will support you in expanding your knowledge. Initially, we'll put you to work on smaller projects, with close guidance from another member of the team, to get you up to speed in the technologies we use.
Eventually you'll progress your knowledge to become a full stack developer, able to take the lead on a varied range of projects to serve the needs of our values-driven clients and their audiences: big or small projects, CMS implementations or bespoke solutions.
As an agency, our CMS of choice is Drupal, but you can also expect to branch out into WordPress, Laravel or Vue.js projects.
The Person
If you're an enthusiastic and self motivated developer with a thirst for knowledge and progression, this could be the role for you. We're pretty confident we've got the industry's best Digital Consultants, UX / UI Designers, Web Developers, and Project Managers – all under one roof. You'll need the talent and the appetite to learn from an exceptional team.
You'll already have demonstrable experience in web development and PHP. You'll be expected to know the nuts and bolts (HTML5, CSS3, JavaScript) and have some development experience with a CMS system such as Drupal, WordPress or similar.
Any experience with specific frameworks (such as those for CSS or JavaScript) would be an advantage, but not essential.
This role is based in our office in Birmingham, UK. Remote working not supported for this role.
Strictly no agencies please.

£20-25k depending on experience +benefits
The Role
You will be the first port of call for our clients with support contracts ensuring their sites are secure and available. Your role is to make sure our helpdesk has happy users and is a commercial success. You will:
Respond to, plan and manage the progress of helpdesk tickets.
Ensure we understand the client needs, can replicate any issues and manage everybody's expectations - hitting commercial targets and response SLA's.
Liaise with suppliers, developers and product owners to ensure efficient resolution of requests - you'll be the main interface with our suppliers.
Be the face of support - internally and externally a trusted member of the team and a digital native that takes ownership of, and ensures that each ticket gets resolved by arranging small changes or simply answering clients questions.
You'll help make sure our support processes run smoothly, involving others when needed, making sure routine tasks get done.
An ideal candidate will be a fantastic communicator, able to work quickly, efficiently and independently and will be a reassuring, expert voice to clients and the account team when they most need one.
You will be great at building relationships and managing expectations (externally and internally) through great telephone, written and face-to-face communication. You'll prioritise and plan well. You will be passionate about delivering excellent service and want to proactively contribute to our continued success.
The Person
Experience
In addition, you should have experience of:
Working with Content Management Systems (ideally Drupal and/or Wordpress) in an administrative capacity
Working in a client facing role providing advice and guidance (ideally on technical topics)
Know your way around a variety of common types of web-based systems like eCommerce (e.g. Magento), CRM's (like Salesforce, Hubspot or CiviCRM) or email marketing (Like Campaign Manager or MailChimp)
Knowledge of Digital Marketing topics like SEO and web analytics would be a benefit
Abilities
You must:
Be friendly, personable and keen
Have excellent communication & customer service skills
Be well organised and thrive under pressure
Be a completer finisher
Be able to work from our Birmingham studio
£20-25k depending on experience* +benefits
Are you looking for an opportunity to work for one of Birmingham's top Brand and Digital Agencies?

IE Digital is looking for a Digital Project Manager to join the team. Bright, high-energy graduates with relevant gap year or sandwich year work experience are welcome to apply – so long as you have a passion for all things digital and the drive to learn on the job.
IE exists to 'make a difference' and 'enjoy the ride'. We make a difference by exclusively working with values driven clients in the charity, health and education sectors. And we enjoy the ride by encouraging a healthy work/life balance with flexible working, a generous benefit package and team events like canoeing together down the River Wye.
In this role you will:
Be supported, trained and mentored by an experienced Digital Consultant
Take on the project management of web development and brand projects
Ensure that projects are delivered on time, within budget and scope
Be a confident and clear communicator when liaising with clients via phone and email on a daily basis
Test websites and apps that IE creates for clients
Be familiar with content-managed websites, apps and digital systems
Be excellent at listening, problem solving, organisation and attention to detail – a 'completer finisher'
Juggle multiple concurrent projects
Be capable (with support and training) of leading daily team meetings
Be thorough in your note taking and follow up actions, and confident in writing progress reports.
We know that great Digital professionals come from a variety of backgrounds. We care less about what degree you've done and more about your years dabbling with digital and the transferable leadership skills that you've picked up which ensure you are recognised as someone who 'gets stuff done'.
*If you join us at £20k, expect to progress quickly through intensive training and mentoring.