Charity, Other
A new look for CharityJob as it relaunches recruiter website
We were delighted to see one of our projects go public last week, as CharityJob proudly unveiled their refreshed brand identity.
---

---
IE Brand worked with CharityJob, the charity recruiting specialists, to review their brand positioning and messaging.
CharityJob is a team of 30 people with deep expertise in working with not-for-profits. They are passionate about the charity sector, and keen to make a difference by connecting the UK's best charities with its brightest talent.
Jade Phillips, Brand & Communications Lead at CharityJob said, "IE Brand have gone above and beyond to transform our brand. We loved the fact that they challenged our team and got us to get out of our comfort zone for this project. From the core messages to visual identity, they truly captured who we are as a team."
As our MD Ollie explains, "It's been great to work alongside a company so clearly committed to the sector and to making a difference. It was important to bring CharityJob's founding values to the fore, and remind recruiters and candidates that they are way more than just a job board." 
The rollout of the new brand, which includes a new logo and visual identity, has been timed to coincide with the launch of CharityJob's new recruiter website – delivered by their in-house team – with an improved customer experience for charities seeking their ideal candidates.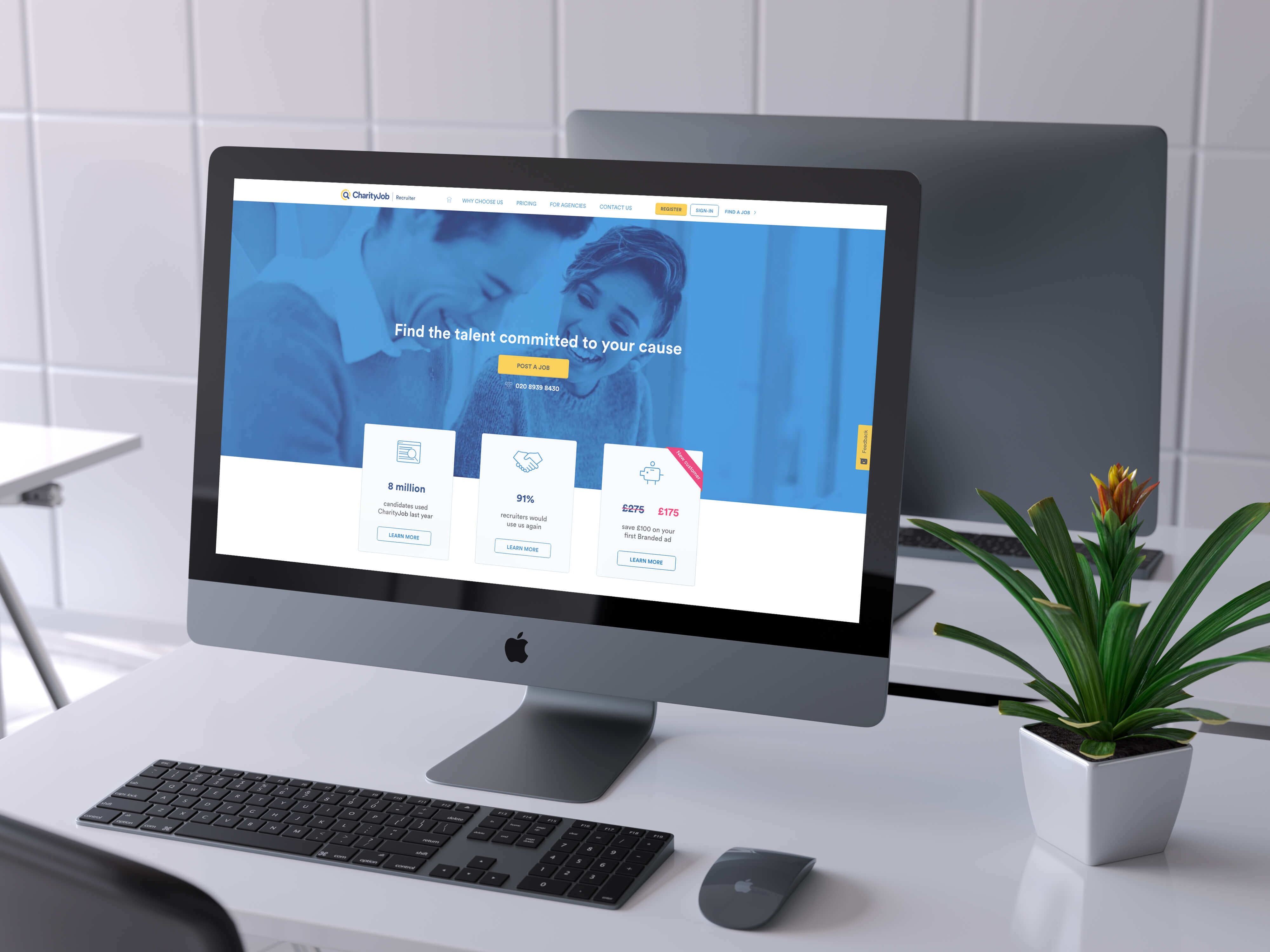 Raya Wexler, Co-Founder of CharityJob said, "Over the last 17.5 years, CharityJob has helped over 20,000 charities and not-for-profits to find their best people, and save millions of pounds in recruitment fees. This latest investment in the recruiter side of the website will take us forward and make it even easier for employers to manage vacancies and find their ideal candidates."
The brand was also rolled out across CharityJob's social media channels, regular email communications, offline branding, and the candidate website – which will relaunch with an improved customer experience in 2018.
Raya continues, "Our new brand, is an expression of how proud we are to be the sector's best champion and of our ongoing support – including giving 10% of our profits back to charity as well as offering free advertising for voluntary roles."
IE Brand have gone above and beyond to transform our brand. We loved the fact that they challenged our team and got us to get out of our comfort zone for this project. It's been an incredible journey and this marks a new chapter for CharityJob. From the core messages to visual identity, they truly captured who we are as a team.

Jade Phillips
Brand & Communications Lead, CharityJob