Charity, Health, Education, Other, IE News
Gold and Silver for IE at Transform Awards 2019
---

---
Last night, we headed down to the Transform Awards Europe ceremony at the Brewery in London, joined by our clients from the sexual health charity FPA (Family Planning Association) and the AgriFood Training Partnership (AFTP).
Established in 2009, the Transform Awards has evolved into a celebration of the indispensable talent that exists within the branding sphere. Covering Asia-Pacific, the Middle East, North America and Europe, Transform reflects the exemplary work in brand development globally.
After a fabulous three-course meal and a spot from comedian Paul McCaffery, it was time to see if our two shortlisted projects would bring home a gong.
Silver award for university partnership in agrifood training
First up was AFTP for Best Visual Identity from Farming and Agriculture, and we were delighted to bag the Silver award, celebrating alongside Deborah Kendale who was representing the partnership.
The judges were clearly impressed with the brand, which brings together agrifood training courses across six partner universities. In particular, they lauded the AFTP icon and its "ability to instantly create a memorable brand for the partnership."
Read how IE created the AFTP brand and visual identity.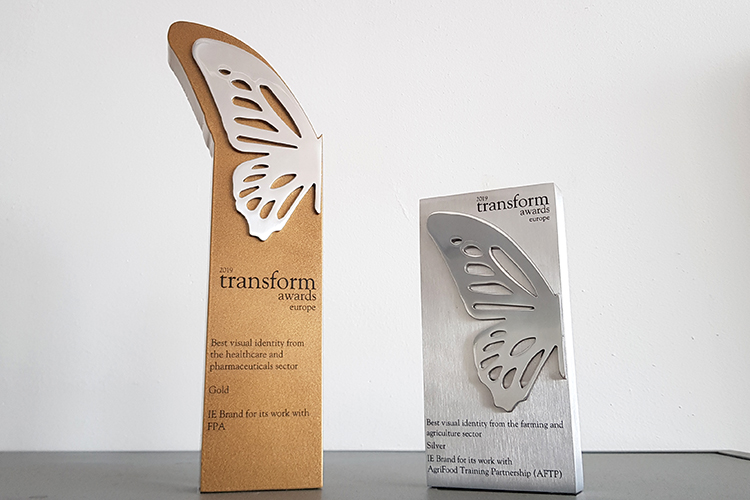 Gold branding award for sexual health campaign Sexwise
We'd barely had time to celebrate our silver, before it was time for our second category to be announced: Best Visual Identity from Healthcare and Pharmaceuticals. This time we'd been shortlisted for our work with FPA to create their campaign brand Sexwise. We were over the moon to have our name announced as the Gold award winners in our category, and FPA's CEO Natika Halil joined us on stage to collect the trophy.
One Transform Awards judge had commented, "There's a balance to strike between informative and approachable for a brand like Sexwise, and I think it walks that line well." They also praised IE for developing a brand that is "light hearted and optimistic whilst keeping hold of its authority".
Read the full Sexwise case study.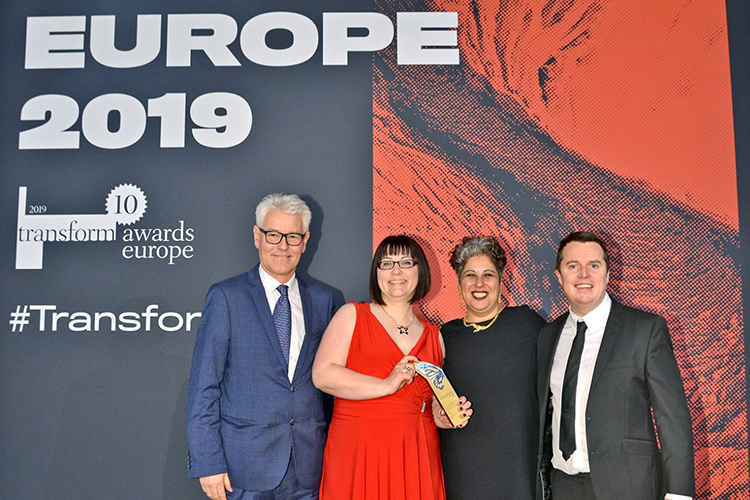 Transform Awards: a mark of genuine quality 
The Transform Awards judges follow a standardised scoring system across all categories to ensure parity across the different awards, meaning that sometimes there can be two Gold winners, and sometimes none at all. That means that a Transform Award is a real mark of quality for every shortlisted entry, and especially those that win the top prizes.
Ollie Leggett, IE's Managing Director and Brand Consultant commented, "Our clients love awards. It's one of the few ways that they can independently, objectively, measure the quality of our work relative to the thousands of other agencies across the UK.
"These trophies are a win for both our brand and digital teams, as each project had a substantial website build as the primary manifestation of the brand. They are two lovely shiny cherries to place on top of our 25th anniversary cake, and I'm proud to bask in the reflected glory of such a talented team."
These latest wins bring IE Brand's total haul of Transform Awards butterflies since 2014 to four Golds, two Silvers, one Bronze and three High Commendations. 
These awards are two lovely shiny cherries to place on top of our 25th anniversary cake, and I'm proud to bask in the reflected glory of such a talented team.

Ollie Leggett
Managing Director & Brand Consultant, IE Brand