Charity, IE News
Christian charity brand to be unveiled at CRE North
IE will be exhibiting at the Christian Resources Exhibition, CRE North 2019, alongside newly rebranded charity Sons & Friends of the Clergy.
---

---
Next week, IE will be up in Manchester at CRE North, to celebrate as a new Christian charity brand is unveiled.
For hundreds of years, Sons & Friends of the Clergy have been helping clergy and their families in times of need. Next week they will be debuting their new name and brand, which IE Brand has helped them to shape over the last few months.
As part of launch activities at CRE North, the Chief Executive of Sons & Friends, Jeremy Moodey (below left), will be a guest on 'Cindy's Sofa' on Wednesday afternoon, chatting to Cindy Kent MBE about the renaming and what it means for the charity. He'll be joined on the sofa by IE's MD Ollie Leggett (below right).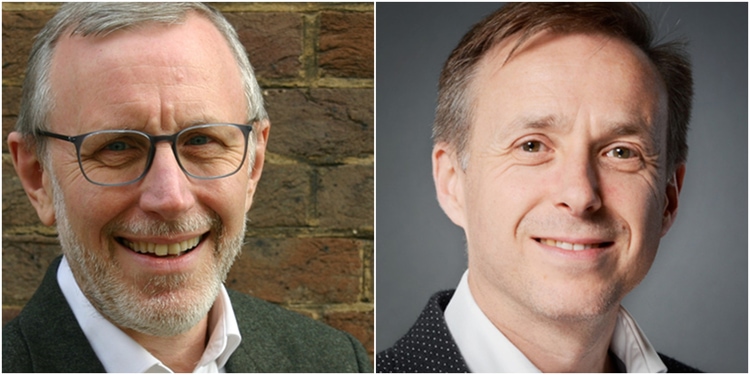 Of course, there's not much we can say about the new brand until the big reveal next week. What we can say is that it's the result of IE's robust brand consultancy process and a substantial research effort with the charity's external stakeholders. We're extremely proud of the end result. As well as a new logo, brand messaging and visual identity, IE is building a new website for Sons & Friends, to be launched in time for CRE. 
IE – a leading agency for Christian charities
Here at IE we've worked with Christian charities ever since the beginning. Agapé UK was our very first client in 1994, and we're pleased to say we're working with them again in 2019. Since then our many faith-based clients have included Serving in Mission, CHIPS, the St. Vincent de Paul Society, Christian Aid, Salvation Army, the Sailors' Society, CPAS, Scripture Union, World Vision, the Church of England, Christian Vision, Lifewords, Open Doors, the Whitgift Foundation, Betel UK, and more. And not forgetting that Ollie is a founder member of Christian Aid's Salt Business Network, 
We're looking forward to catching up with clients past, present, and future at the exhibition!

About CRE North
CRE North is the regional 'little sister' to Europe's leading exhibition of church resources. As well as over 150 exhibition stands to browse, delegates can choose from around 30 seminars and presentations packed with fresh ideas, best practice, case studies and demonstrations – carefully selected to inform, challenge and inspire.
Further details
CRE North will be held in Hall 1, Event City, Manchester. The exhibition runs from 10am-8pm on Wednesday 13th March and 10am-4pm on Thursday 14th March. 
Sons & Friends of the Clergy will be at CRE North throughout the exhibition, and you can find them on stand A17, near Seminar Area Three.
IE Brand will be on stand D32 on both days, just by The Compassion Experience.
Jeremy and Ollie will feature on Cindy's Sofa between 1-1.30pm, in the Inflatable Theatre (Seminar Area Two).
If you fancy coming along, click to book a free ticket using IE's exclusive exhibitor code.
When I founded IE in 1994, our very first client was a Christian charity, Agapé UK. After 25 years helping numerous Christian charities to engage with their audiences, I'm delighted to be returning to CRE to celebrate the launch of a new Christian charity brand.

Ollie Leggett
Managing Director and Brand Consultant, IE Brand