Charity
Charity brand storytelling at the Fundraising Conference
Last week, IE Brand sponsored the Third Sector Fundraising Conference, leading a workshop on brand storytelling alongside peacekeeping charity CHIPS. Among common fundraising topics like GDPR, legacies and crowdfunding, the rest of the conference also demonstrated the need for compelling brand stories.
---

---
No-one that attended the keynote presentation by Alex Smith, Founder of Harrison's Fund, could be in any doubt that the story behind your charity can give it real heart, and speak directly to donors.
Alex's determination to find a cure for Duchenne Muscular Dystrophy for his son Harrison barely left a dry eye in the house at the Fundraising Conference. Harrison's Fund often uses controversial marketing messages – like the campaign "I wish my son had cancer". While shock tactics may not be for everyone, it's a brilliant example of a charity brand that uses storytelling and a very clear articulation of its purpose to drive fundraising support. More on Harrison's Fund later.
Brand is everybody's business
During the opening for Day 2 of the conference, Third Sector's Editor, Andy Hillier, stressed the need for fundraisers to clearly articulate what their charity is doing and why. Every individual within a charity organisation has a responsibility for representing the brand and generating income – not just the official fundraising team. Yet staff and volunteers often give very different answers when asked about their charity's aims and impact.
This was echoed by Polly Rigby from CLIC Sargent in the break-out session on community fundraising. She spoke about how fundraisers should be strong storytellers, which is why the charity has invested in training for fundraisers to help them better articulate their work and tell more engaging stories.
Storytelling at the heart of your charity brand
IE Brand's workshop session followed the theme "Who cares about… [insert your cause here]? How to employ brand storytelling to engage the emotions and solicit the support of an indifferent world."
Our MD Ollie Leggett was joined by Paul Maxwell-Rose, Director at Christian peacemaking charity CHIPS, who told delegates about their recent rebrand. IE Brand put storytelling at the heart of CHIPS' new brand messaging, drawing on over 50 years of peacemaking – from the charity's beginnings in Cyprus in the 1960s to the present day in London's Brixton. The new brand narrative uses these powerful stories to celebrate the inspirational work of staff and volunteers, and articulate CHIPS' ambition for peace.
Paul's told us that the CHIPS rebrand has already had a big impact since the launch in February. It has helped supporters feel more confident about investing for the long-term, as evidenced by a number of supporters increasing their regular giving. Online donations have increased substantially, and they've seen a big improvement in their website stats. Recent donations have frequently been accompanied by praise for the new brand and website, from supporters of all ages.
To support CHIPS in creating consistent messaging for its key audience groups, IE provided a detailed messaging matrix (See partial snapshot below) and a bank of stories.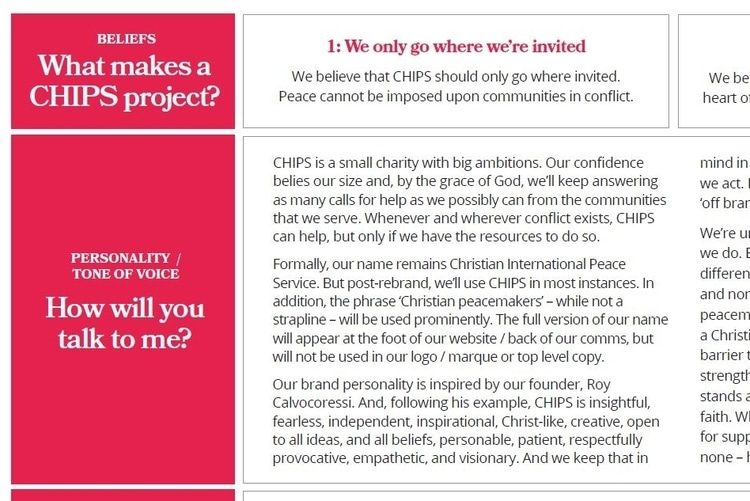 Guilt, Empathy and Efficacy
IE's Associate Fundraising Consultant Iris Keenan described three key influences on donor decision making – Guilt, Efficacy and Empathy – as described in Basil, Ridgway & Basil's Donation Intention Model (shown below). The group then workshopped ideas on using Guilt, Empathy and Efficacy to strengthen the fundraising ask for CHIPS.
Harrison's Fund taps brilliantly into these three in its messaging:
Guilt over wasted gym membership fees that could be put to better use saving lives.
Empathy for the loving father who will do anything to save his son.
And strong messaging around the efficacy of their work – showing their focus on finding cures and treatments for Duchenne by getting as much money as possible into the hands of the world's best researchers, and funding human clinical trials.
It's powerful stuff, and clearly for Harrison's Fund, really effective at achieving both donations and PR coverage.
Every individual within a charity organisation has a responsibility for representing the brand and generating income – not just the official fundraising team. (paraphrased)

Andy Hillier
Third Sector