Charity, Health, Education, Other
Why base a brand and digital agency in Birmingham?
Provoked by a thoughtful Guardian article on Friday entitled 'Charities crowded in affluent areas instead of where they are needed, says thinktank' we ask IE's MD, Ollie Leggett why he chose to locate his brand and digital agency in Birmingham – despite so many of our clients in charity, health, education and values driven businesses being London based – and what our own geographic location says about his personal values and the business's commitment to social impact.
---

---
A New Philanthropy Capital (NPC) report has observed 'that charitable wealth and resources – from volunteers to philanthropic donations and council grants – is disproportionately concentrated in England's most affluent areas at the expense of the country's most deprived communities'.
The NPC report calls for a "rebalancing of public funding and philanthropy to rebuild civil society – broadly defined as local charities, clubs and community and voluntary groups – in the "left behind" areas of the North and Midlands and stresses the importance not just of physical infrastructure but 'investment in their voluntary sector and local authorities to help renew communities after years of austerity-driven cuts.'
So why did the article catch your eye?
Firstly it resonated with my experience. As a Birmingham based brand and digital agency that exists to serve charity, health, education and values driven businesses, a good deal of our clients are located in Greater London. There are notable exceptions, but the concentration of charities down South – and the networks of creative agencies, fundraisers and professional service firms that serve them – is striking. It's no hardship... with Birmingham's great transport links we can be with a client in London in well under 1.5hrs – quicker often than a London competitor can travel across their own city, but we'd love to see more charities choosing to base themselves in the city that IE has made its home for the past 26 years.
So why is IE Brand / IE Digital based in Brum?
The simple truth is that IE's located here in Birmingham because 33 years ago I chose to come and study here. I grew up in leafy Cheshire (South Manchester) and as a teenager became increasingly committed to a church in Victoria Park, a very deprived area of central Manchester (about 13 miles from my home). At that stage I was fascinated by Liberation Theology – a movement in Christian theology, developed mainly in Latin America, that emphasises a spirituality of social justice, concern for the poor and political liberation for oppressed peoples. 
Birmingham attracted me because my Manchester church had a sister church who were on the verge of a radical step that felt very much in line with the principles of Liberation Theology… they were in the process of relocating – family by family – from Harborne (a largely white, middle class, wealthy area, popular with young professionals) to Smethwick (a richly multi-ethnic, working class or "left behind" area) located just a couple of miles away in Sandwell, one of the UK's top 10 most deprived boroughs. The entire church were putting their Harborne houses up for sale and relocating to Smethwick – the community they sought to reach – sending their kids to tough local schools and moving into a challenging neighbourhood with the intention of being 'salt and light'.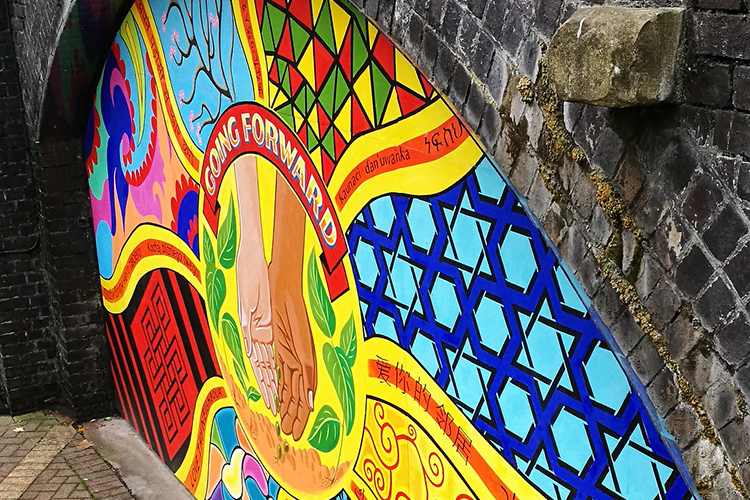 It was radical and it excited me. So I applied to Birmingham Institute of Art & Design (BIAD) – now part of Birmingham City University – won myself a place to study Visual Communication and moved to Birmingham well before the start of term in order to join a group of young people from across the UK involved in the physical construction of the church's new building in Smethwick. Great fun! 
To cut a long story short, I have lived in and around Smethwick for the past 30 years – first as a student, then as a teacher at the local comprehensive school, and then by the time I founded IE 26 years ago, having already married and settled here, Birmingham was very much my home and there was never any question of moving anywhere else to start the business.
Any regrets?
No. I think that IE's location enables us to offer tremendous value to our clients. We don't have to contend with London commercial rents or London weighting salaries – and clients recognise that. We've even won work in the past following client searches for 'award winning brand agency outside M25'. Being in Birmingham means we can afford to pay IE's talented team competitive salaries for great jobs and that, despite choosing three sectors that are known to be cash strapped, we can turn a profit whilst achieving IE's six word mission: 'Make a difference. Enjoy the ride.'  
I've already mentioned Birmingham's transport links – rail (IE's preferred means of transport), air and road – which place us within easy reach of huge swathes of the UK. On top of that Birmingham has one of the highest numbers of young professionals of any European city and we're surrounded by world class universities – all great for recruiting fresh design and development talent. The city's design and tech communities are well established. We have our own international Design Festival. I've witnessed the incredible transformation of Birmingham city centre and the rise of exciting new quarters like Eastside (where I shared my first tiny studio with a fellow start-up who made dance leotards!) and of course, Birmingham's Jewellery Quarter where we've been located for the past 22 of our 26 years in business. Creative agencies have transformed the Jewellery Quarter by locating here. Where once it was by day a dwindling area populated by ever-decreasing numbers of jobbing jewellers and by night a ghost town, now the Quarter is buzzing with commerce, restaurants, shops, bars and new apartments where many of IE's team live within a stone's throw of the studio.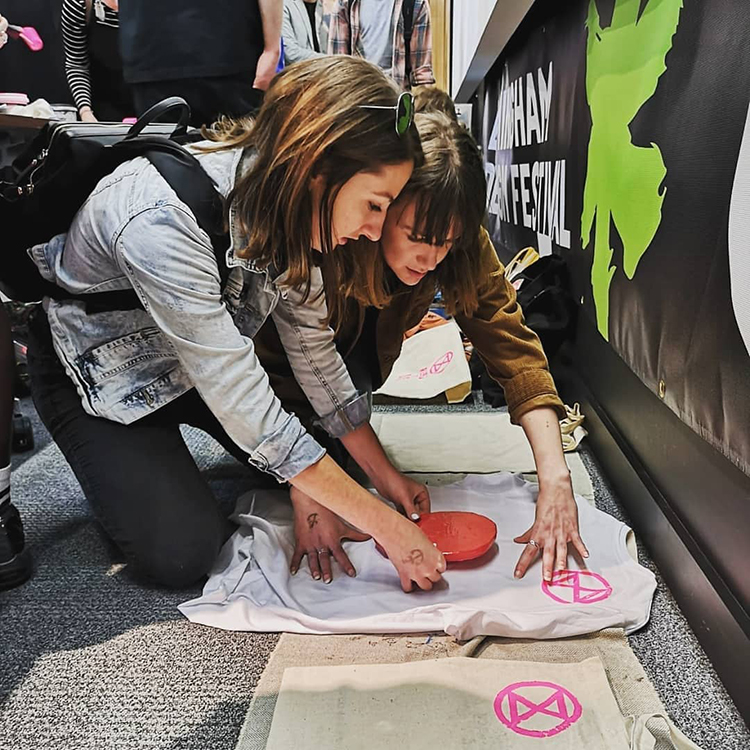 The city's arts and culture sector is also fabulous, making Birmingham a cracking city in which to learn, grow and be entertained – so if I want to take an evening class to study figurative sculpture or a workshop on traditional signwriting, go see some innovative contemporary dance or learn from a master how to paint Mughal Miniatures (all of which I've recently done) then I can do it all on my doorstep. Birmingham also has seven Michelin Star restaurants and a multi award winning, thriving street food scene. And we're proud to be hosting the Commonwealth Games in 2022. It really is a fantastic city.
If I was pressed for one regret it would be that IE is not better known in the city that we are so proud to call our home. We've built an enviable portfolio of national clients including household name charities and Russell Group universities, but I wish the city were more aware that IE is a jewel in its creative crown. 
There are loads of incredible charities, universities, hospitals and values driven businesses here and Birmingham's civic society and voluntary sector is alive and well. Smaller than London's – yes – but no less vibrant and and diverse and just as important to the fabric of community and city life. It's here more than anywhere that we'd like to make a difference, and it's here above all other places that we have the best chance of enjoying the ride.
Here's to Birmingham – IE's home and the city of gold!
IE's location enables us to offer tremendous value to our clients. We don't have to contend with London commercial rents or London weighting salaries. On top of that, Birmingham has one of the highest numbers of young professionals of any European city and we're surrounded by world class universities – all great for recruiting fresh design and development talent.

Ollie Leggett
Managing Director & Brand Consultant, IE Brand