Education
Stronger Student Service brands at CASE Conference
We're looking forward to speaking at the CASE Europe Annual Conference 2019, alongside the University of Cambridge, with our talk "Harnessing the disruptive power of the student voice to shape stronger Student Service brands".
---

---
IE Brand will be returning to the CASE Europe Annual Conference next week, where I'll be speaking alongside Amanda Norman from the University of Cambridge. 
Our talk is on the theme "Harnessing the disruptive power of the student voice to shape stronger Student Service brands", as illustrated through Cambridge's transformation of its Careers Service. 
Disrupt or Be Disrupted
CASE – The Council for Advancement and Support of Education – is the global association for professionals in alumni relations, communications, development, marketing, and advancement services within colleges, universities and independent schools.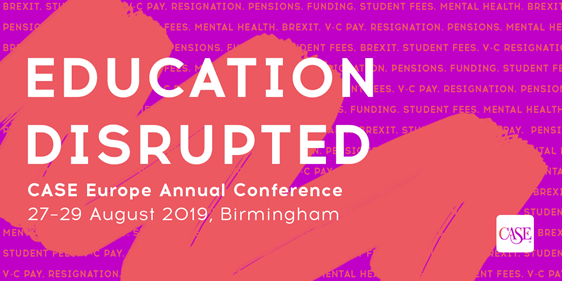 This year, the annual CASE Europe conference theme is "Education: Disrupt or Be Disrupted". Disruption is a way of life for the sector, with societal and political turbulence changing the way they are funded, regulated and perceived. Delegates from almost 30 countries and 250 educational institutions will come together to hear how, in a time of constant change, the sector can thrive and survive. 
Disrupting Cambridge Careers
With Cambridge students being bombarded with comms on everything from dissertation deadlines and graduate recruitment to pizza delivery and sexual health advice, the Careers Service's parental tone of voice and indistinct visual identity wasn't being heard above the noise. Like many University Student Services, the Careers Service was going unnoticed or being seen as irrelevant by the students needed it most.
Through rigorous research and listening to their students, the Careers Service has transformed its internal culture and the perceptions of their key audiences. With help from IE Brand, Cambridge used a combination of innovative segmentation, a new brand and tone of voice, new digital channels, and the addition of student interns on staff, to generate measurable results: 
First year student registration with Service, up 15%
Attendance at main Michaelmas term events, up 35% 
Over 1,000 visits to three new website user journeys within two weeks of launch. 
Session details
The CASE Europe Annual Conference is at The ICC Birmingham from 27-29 August 2019. Full details and booking information on the CASE website. 
IE's session showcase with the University of Cambridge is at 10.15am on Wednesday 28th August in Hall 10b.
We're looking forward to it!
About the speakers
Amanda Norman, Careers Adviser and Rebrand Project Manager, University of Cambridge 
Amanda was previously a Director of Fundraising and Marketing in the charity sector. At the University of Cambridge Careers Service she has spent the past decade as the Careers Adviser for social impact careers. With the help of IE Brand she has recently led a revolution in how the Service communicates with students. 
Ollie Leggett, MD & Brand Consultant, IE Brand
Ollie founded IE in 1994 and continues to lead IE's HE brand consultancy projects. A regular speaker at CASE and AGCAS, his team has harnessed the power of brand and digital to drive up awareness and engagement levels at over twenty UK universities including Aston, Birmingham, Cambridge, Queen Mary UoL, Warwick, Bristol, York, Southampton, University College Dublin and Imperial College London. 
This year's CASE conference theme 'Disrupt or Be Disrupted' could almost have been written for the University of Cambridge Careers Service! Their case study is all about change and proactive disruption, of both internal team and external perceptions. We're looking forward to sharing it with delegates in Birmingham.

Ollie Leggett
Managing Director & Brand Consultant, IE Brand