Education
Heythrop College University of London Website
We are thrilled to announce the recent unveiling of Heythrop College's new website. Incorporating IE's new interpretation of the college's brand, the responsive site has been designed to increase engagement with current and prospective students.
---

---
Part of the University of London, Heythrop College was established in 1612 and provides undergraduate and postgraduate degree programmes in philosophy and theology. In going through a process of re-expressing course offerings to make them fit more closely with students' needs, Heythrop tasked IE to build a new website to help communicate this philosophy to potential students and to redesign their brand.
Heythrop expressed that their initial website was too text-heavy, visually dated and failed to communicate the unique history and nature of the college. Additionally, the site's layout made it difficult for users to find the information they sought and that its unresponsive nature meant browsing from mobile devices was problematic.
To solve all of these problems, IE built a fresh new website, communicating the special characteristics and unique history of the college. A stunning visual layout assists students in finding the information they require on available courses.
To compliment our digital work, we also put forth a full brand repositioning exercise to transform Heythrop from a conservative Catholic college of theology and philosophy, to a vibrant college of the University of London, thus attracting and moulding students to change their world.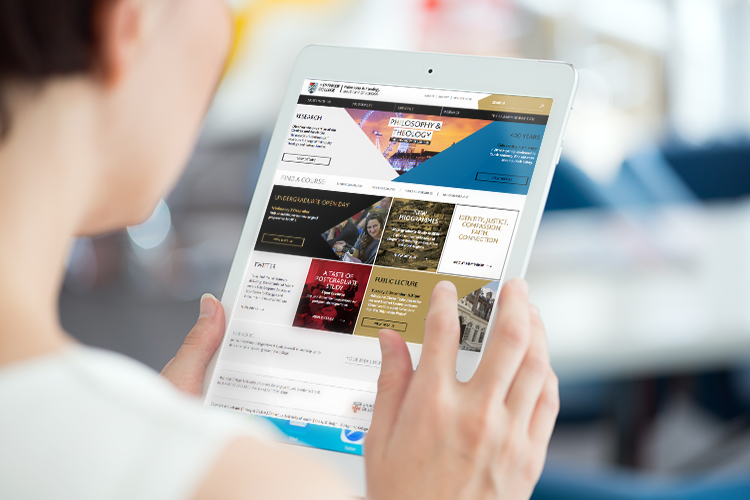 In reviewing Heythrop's internal research summarising their top line brand, IE settled on a vision for the college's identity. Our work has accelerated Heythrop and their brand in the direction they were naturally travelling in already.
IE identified through our initial research the benefits and mitigators that prospective students scrutinised when considering Heythrop. A large one was the London location, ironically this was one of Heythrop's biggest draws and its biggest barrier.
IE's new rebranding expressed the international and cultural attraction London offers, whilst also communicating the student discounts, bursaries and accommodations available outside London, reassuring students for whom these issues may be mitigators.
IE introduced new, intriguing images and messages to bring the personality of the college to life as part of our branding work in refreshing Heythrop's visual identity both on and offline. In further terms of visual identity, IE evolved the school's crest and modified the typography used to make it more closely aligned to that used by University of London.
IE's brand and digital expertise has given Heythrop a new voice, a new look, a brand new website and renewed confidence.

Amy Fenton
Marketing Manager, Heythrop College – University of London