Charity, Education
Celebrating National Careers Week 2017
IE Brand has a wide array of experience in the careers sector, especially where charity and education overlap. To celebrate National Careers Week, National Apprenticeships Week and Scottish Apprenticeships Week 2017, we're taking a look at some of the brand and digital projects we're proud to have worked on.
---

---
Gaining access to opportunities we can grow into a career is key to social mobility.
There's an amazing variety of organisations – including Government, educational institutions, non-profits and businesses – with responsibilities to nurture the careers potential of people from all walks of life. This feels like the perfect time to look back at some of the diverse brand and web projects that IE has worked on with organisations in the careers and apprenticeships realm.
Perhaps the most obvious examples are the university careers services, who cultivate the employability of their graduates through advice, placements, etc… We've been fortunate enough to be involved in renaming, rebranding and redesigning no less than nine university careers services, to help them engage with students on campus – as well as academics and employers – and drive better employment outcomes.
Every careers service we've rebranded – from London to Aberdeen, Bristol to Birmingham – has shared broadly the same goals for their students. However, each one had its own unique challenges and personality, so they've resulted in an incredibly diverse and 'Transform Award'-winning collection of brands, as you'll see in our university careers brand case study.
Ongoing vocational support
But of course it's not all about graduates, and nor does career development stop once you're on the first rung of the ladder. IE Digital counts a number of membership organisations amongst its clients, who are focused on particular sector-based skills. The likes of Energy & Utility Skills, Local Authority Building Control (LABC) and the Lighting Industry Association (LIA) offer a range of services to support the workforce's career development. They train, develop, support, advise, protect and promote good practice among their associated professionals, through apprenticeships, training, CPD and more. We designed their new websites to provide an access point for members to access these opportunities.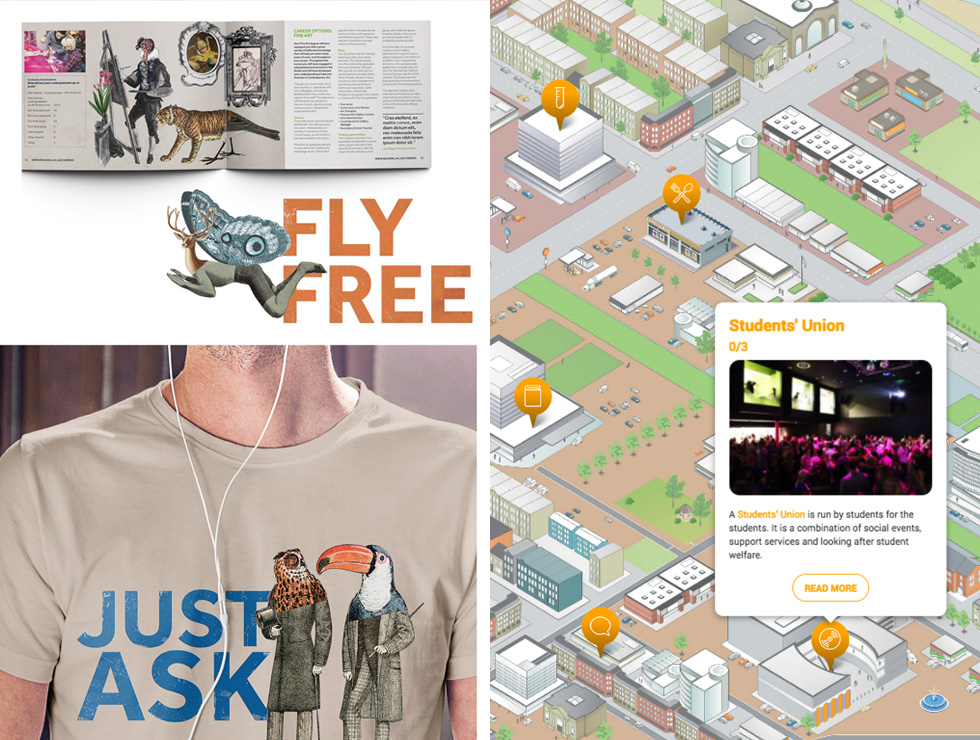 Now bring in the likes of charity Career Ready, who link employers with schools and colleges to open up the world of work to young people. Supported by a strong network of volunteer mentors, the charity helps students from lower income families to give them the confidence, skills and networks they need to achieve their potential, encouraging social mobility for those in need of a 'leg-up'. Once they've been through the Career Ready programme, these young people are equipped to take the next step, into university, employment or an apprenticeship.
Since IE renamed and rebranded Career Ready in 2015 and built them a sophisticated volunteer management platform to drive efficiency, the charity has seen a 247% increase in the number of volunteer registrations and their admin overhead per applicant has reduced by 80%.
Another organisation taking on the challenge of educational inequality and social mobility is Teach First. They recruit, train and support new teachers to become amazing leaders, and inspire pupils from low-income communities to work towards a brighter future. Teach First will soon be unveiling a new campaign visual identity by IE Brand to take the organisation forward in continuing this important work.
Restoring broken lives
Another very different example is Betel UK, an independent Christian charity for people affected by drug and alcohol addiction and homelessness. While supporting their residents to free themselves from addiction, Betel trains them in a trade too. They become skilled furniture restorers, tree surgeons and landscape gardeners, and the service they offer funds the charity's work. Many then go on to become involved in managing the Betel businesses and mentoring others.
It's a brilliant charity and IE took great pride in rebranding Betel with updated messaging, proposition and tone of voice – coining the new strapline "Restoring broken lives". We created a fresh new visual identity for Betel UK and its five sub-brands, delivered through new brand guidelines and a new charity website.

The list of IE's associations with the careers world – especially where charity and education overlap – is clearly strong. And we haven't even got onto talking about website development for Young Enterprise, or developing the UniExplorer app for the Southern Universities Network (SUN) that helps pupils with the transition to college and university.
It hasn't been by design, but is simply a reflection of how our brand and digital consultants have cultivated deep expertise within IE Brand's core sectors. And we're delighted to play our part in shaping positive futures. 
Gaining access to opportunities we can grow into a career is key to social mobility. I've been really proud to look back at the Brand and Digital projects we've worked on, to celebrate those organisations making a difference to careers prospects throughout the UK.

Ollie Leggett
Managing Director and Brand Consultant, IE